product overview


>> rack series >> 500 series >> custom series >> power supply >> software
COSINUS - Analogue Room Correction

roger schult german audio lab and mbakustik developed this unique analogue special filter system to optimize the low-frequency response and remedy room mode issues
UF1 - universal filter with M/S matrix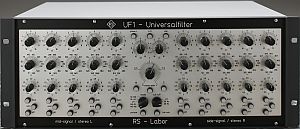 Fully parametric 2 x 5 band filter system with integrated M/S matrix

UF1 is capable of splitting any stereo signal into its mid and side signals to process these signals separately by 10 fully parametric filters.
UF2 - parametric 2 x 5 band filter system

Fully parametric 2 x 5 band filter system, frequency range from 15 Hz to 20.1 kHz
W2324 phase shifter

Continuously adjustable phase angle

Rotary switch to select frequency range:
23 Hz to 1.57 kHz

Filter gain range:
-5 dB to + 5 dB

3-position flip switch to extend phase angle
10° and 125°
90° to 305°
W2377 - universal filter

The three fully parametric RS Audio Technique W2377 filter modules cover the complete frequency range from 20 Hz to 23 kHz.

Overlapping frequency bands with three different modules as low- / mid- / high band filter
low: 20 Hz- 730 Hz
mid: 155 Hz - 3.5 kHz
high: 1.03 kHz - 23.2 kHz
W2377 MK2 - selectable frequency ranges

Universal filter W2377 MK2
Fully parametric, analogue filter with three switchable overlapping frequency ranges covering the entire frequency range from
20 Hz to 23.3 kHz:

low: 20 Hz to 233 Hz
mid: 200 Hz to 2330 Hz
high: 2 kHz to 23.3 kHz
W2377 MK2 (5th anniversary)
Limited edition of W2377 MK2 with white coated faceplate ( 5th anniversary )
TS230X - DUAL LOW-CUT FILTER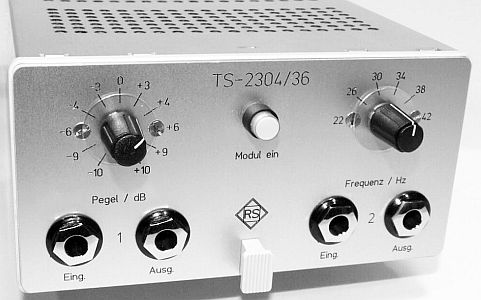 The active high-pass filter TS230x is designed to eliminate interferences caused by lower sonic and infrasonic frequencies.

(TS2304 / TS2306 / TS2308)
V2350 - matching amplifier module

Balanced and/or unbalanced signal sources and output impedances can be adjusted to studio level.

Furthermore a high-class phono preamplifier with RIAA-characteristics is integrated
MAAT RSPhaseShifter W2324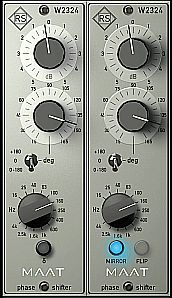 RSPhaseShifter is a painstaking, 64 bit digital plug-in realization of Roger Schult's trusted analogue hardware W2324. RSPhaseShifter was created by MAAT inc. in conjunction with roger schult german audio lab.